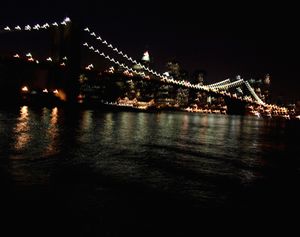 Press & Bios
Guitarist Chris Bergson and organist Moses Patrou - two stellar, deeply soulful singers - have joined forces as The Brooklyn Holdouts. Drawing on the funky, feel-good, greasy, grooving organ trio tradition, The Brooklyn Holdouts seamlessly navigate Blues, R&B, Soul Jazz, Rock and Americana. Alternating lead vocals, these two powerhouses are also both renowned songwriters drawing on their 20+ years on the New York scene delivering "gut-busting NY blues." (MOJO.)  
Together, Bergson and Patrou deliver original material that is rollicking, witty and spontaneous. Their two voices have enormous character as they trade off singing songs with rich melodies/harmonies, tell-tale lyrics, and funky back beat feels that drive the Blues guitar and Hammond soul organ trio, making the Brooklyn Holdouts an absolute must-see in 2023.
Hailed as "the New York street poet with a blues soul" (MOJO), Chris Bergson has been described by the UK's Blues Magazine as "one of the most interesting blues-inspired songwriters...a kind of Edward Hopper of the blues." ROLL Magazine writes: "Chris Bergson plays the kind of guitar you can build a house on - it's B.B. meets Steve Cropper meets John Scofield."  
Offbeat Magazine describes Moses Patrou's music "…as if the Meters had gone to Memphis at their most potent point and gotten some of that Hi Records shine. Swelling jazz organ, fat beats, and lots of soul." 
"Moses is well on his way to leading us out of the land of predictable pop bondage & into an unpredictable land of milk & honey. His music and lyrics always inspire and entertain."  - 60 Minutes 
Bios 
Chris Bergson is an internationally acclaimed guitarist, singer and songwriter hailed as "one of the most inventive songwriters in modern blues music." (All Music Guide) Bergson is also an accomplished sideman who has performed with luminaries Norah Jones, Levon Helm, Bernard Purdie, Howlin' Wolf guitarist Hubert Sumlin, Annie Ross, Al Foster and Matt Wilson along with opening for B.B. King and Etta James.  The Chris Bergson Band's 2007 album Fall Changes, recorded at The Band drummer Levon Helm's studio in Woodstock, New York, was named MOJO Magazine's Number One Blues Album of the Year in 2008. Bergson was inducted into the New York Blues Hall of Fame as a Master Blues Artist in 2015. Bergson is also an Associate Professor at Berklee College of Music where he teaches guitar and songwriting.  
Moses Patrou is a prolific singer/song-writer/multi-instrumentalist active 20 years on the New York scene, playing keyboards, drums, and percussion.  The Nashville born Patrou learned Rhythm & Blues from 'Funky Drummer" Clyde Stubblefield, Treme Brass Band's Lionel Baptiste, Hi Rhythm legends Howard Grimes and Charles Hodges (Al Green), Recorded with jazz legends Ben Sidran and Ed Cherry and has played on stages with Levon Helm, Boz Skaggs, and Gregg Allman, The Wild Magnolias, Hot 8 Brass Band and has appeared at Monterey Jazz Fest, Womad Jazz Fest (Canary Islands), Montreal Jazz Fest, Ascona Jazz Fest (Switzerland), Opi Kopi Fest (South Africa) and countless others.
Patrou has two full length albums Introducing Moses Patrou (2004) produced by Grammy award winning producer Leo Sidran, and Can't Stop (2011), co-Produced with Scott Sharrard (music dir. Gregg Allman) and is set to release a new record in 2023 featuring featuring a world class lineup of musicians that tour with such luminaries as Norah Jones, Stevie Nicks, Lenny Kravitz, and more.
For more info, please visit:  
www.chrisbergson.com 
www.mosespatrou.com